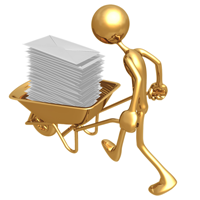 Direct Mail Marketing
Direct marketing is an effective method for establishing and building relationships with existing and new customers. Handline are dedicated to providing you with the very best integrated direct mail marketing and mail services. We offer: digital printing offset printing variable data printing folding and insertingorder fulfillment And other direct mail services to help effectively reach your target market and increase your reach.
Let us help you communicate with your customers, our high accuracy rate and quality standards ensure your message gets delivered. Traditionally response rates from direct mail are 1 to 2 per cent, but with bulk mail outs in the thousands, that can be a significant result and it's a much cheaper option than radio or TV advertising. Through our Australia Post Bulk Mail Partnership agreement, we can offer our clients special postal discounts on mail outs.
Make your direct mail message count, call Handline on 1300 724 725 today.